Breaking News
Bank teller shot dead at a shopping mall after she was caught red handed doing this
Bank teller shot dead
The situation is however different in South Africa where guns are readily available and the country is infested with dangerous people who do not hesitate to shoot. Not a single day passes by without reports of a shooting incident.
On Thursday the 6th of May 2021, a report was shared by SAfm news which claimed that there has been a shooting incident at a shopping mall.
A female bank employee got shot dead in broad daylight and many who were at the mall could not believe the scenes they witmessed.
She was allegedly shot dead by her husband at a shopping complex parking area in Polokwane's CBD in Limpopo.
Police Spokesperson, Motlafela Mojapelo says the suspect allegedly found his wife and another man seated in a car and started shooting.
By the time paramedics got to the scene, the lady was already deceased and they declared her dead after she suffered fatal wounds.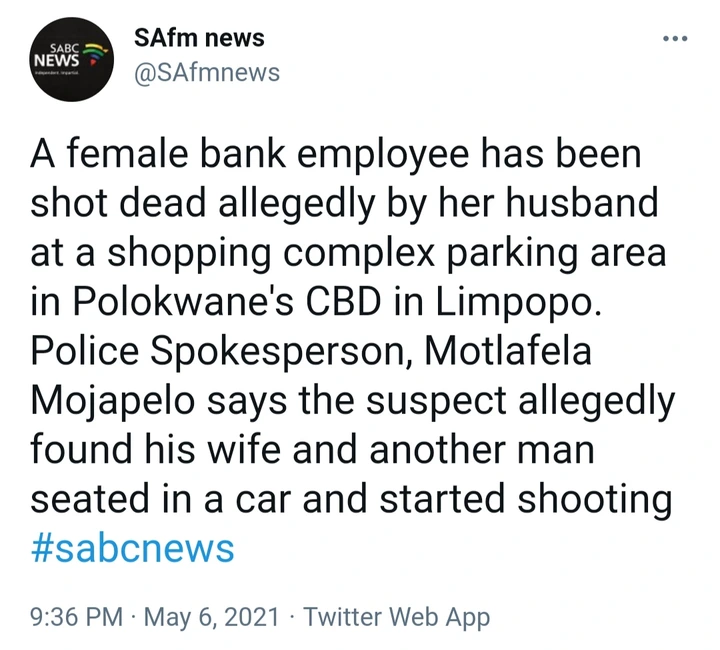 It is not yet known to this publication if the suspect who carried out the shooting was arrested by the police.
The shooting incident was best described as just another day in Southy Africa where the real pandemic is violent crimes.
The disheartening incident is now trending and it is all over social media platforms.
Many have been left questioning on why the suspect shot the victim? Even if there were some issues, they could all be solved amicably.
The shooting incident just exposed how wild people in the country are turning out to be.
What can however not be denied is the role of illegal firearms which are leading to the death of many in the country.
If we are to ever have safer societies, a clean up exercise should be carried out which will be aimed at getting guns off the streets.
Bank teller shot dead