Now that the fact that we are on lockdown level 4 with the ban of certain things such as alcohol has been one of the less talked about things lately because the looting and recovery of the looted goods are what a lot of people seems interested In now. A picture of a pamphlet of one of the alcohol selling stores has recently surfaced online and by looking at it one can tell that the ban will be lifted.
Let me not talk much about that. Have a look at the pamphlet I am talking about in the picture below.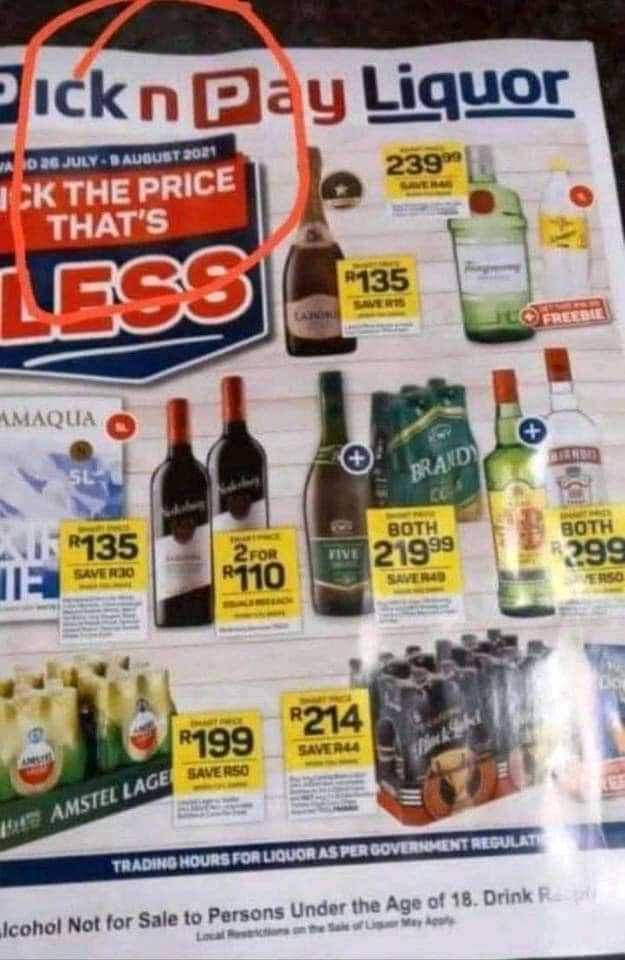 Pay attention to what is written on the top left of the pamphlet. The dates written are those of the coming few days and if you should do the math, We have spent all the days of the extended lockdown now what is only left is the president to come and state what will be the way forward.
But then looking at what Pic N Pay has done here one can say that it has just given us a hint, I mean they can't make a sale and promote it whilst they are not sure whether they will be operating or not right?
So right now that the sales of alcohol might be permitted again after all that has happened last week, what is it that you have to say about this? Don't you think that it is too early? I mean, once it is permitted it might make the operations of finding the looted one very difficult since people will tamper with till slips and so on.
What's your take on this possibility of alcohol being back on the market? Please leave some comments in the comments' section below. While you are at that, please do see to it that you follow my account for further updates and news.